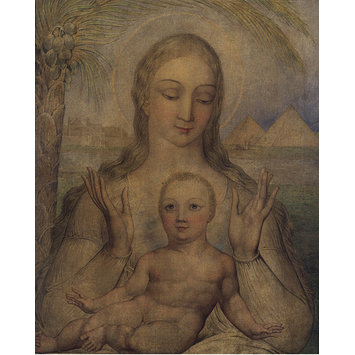 Victoria & Albert Museum, London


Virgin & Child in Egypt


1810



The gospel of Luke records the song Mary sang when her cousin Elizabeth recognised that the Lords's promise of salvation was to be fulfilled through the child Mary was to bear.



Luke 1
[41] And it came to pass, that, when Elisabeth heard the salutation of Mary, the babe leaped in her womb; and Elisabeth was filled with the Holy Ghost:
[42] And she spake out with a loud voice, and said, Blessed art thou among women, and blessed is the fruit of thy womb.
[43] And whence is this to me, that the mother of my Lord should come to me?
[44] For, lo, as soon as the voice of thy salutation sounded in mine ears, the babe leaped in my womb for joy.
[45] And blessed is she that believed: for there shall be a performance of those things which were told her from the Lord.
[46] And Mary said, My soul doth magnify the Lord,
[47] And my spirit hath rejoiced in God my Saviour.
[48] For he hath regarded the low estate of his handmaiden: for, behold, from henceforth all generations shall call me blessed.
[49] For he that is mighty hath done to me great things; and holy is his name.
[50] And his mercy is on them that fear him from generation to generation.
[51] He hath shewed strength with his arm; he hath scattered the proud in the imagination of their hearts.
[52] He hath put down the mighty from their seats, and exalted them of low degree.
[53] He hath filled the hungry with good things; and the rich he hath sent empty away.
[54] He hath holpen his servant Israel, in remembrance of his mercy;
[55] As he spake to our fathers, to Abraham, and to his seed for ever.

In

Jerusalem

Blake similarly has Mary burst into song but the occasion is the realisation that she is forgiven by God and by Joseph. Blake chooses to have Mary represent the sinner who calls upon God to forgive because it is his nature to forgive.



Jerusalem

, Plate 61, (E 212)


"But Jehovahs Salvation
Is without Money & without Price, in the Continual Forgiveness of Sins
In the Perpetual Mutual Sacrifice in Great Eternity! for behold!
There is none that liveth & Sinneth not!"

To Blake to be forgiven was more worthy than to be pure. His Jesus was borne by a Mother who knew that she was not to be glorified. She was made pure through God's mercy. She knew that she could make no claim of virtue. Through mercy she became acquainted with the Divine Humanity, the God of Pity, compassion, and forgiveness.



Jerusalem

, Plate 61, (E 212)


"And this is the Covenant
Of Jehovah: If you Forgive one-another, so shall Jehovah Forgive You:
That He Himself may Dwell among You. Fear not then to take
To thee Mary thy Wife, for she is with Child by the Holy Ghost

Then Mary burst forth into a Song! she flowed like a River of
Many Streams in the arms of Joseph & gave forth her tears of joy
Like many waters, and Emanating into gardens & palaces upon
Euphrates & to forests & floods & animals wild & tame from
Gihon to Hiddekel, & to corn fields & villages & inhabitants
Upon Pison & Arnon & Jordan. And I heard the voice among
The Reapers Saying, Am I Jerusalem the lost Adulteress? or am I
Babylon come up to Jerusalem? And another voice answerd Saying

Does the voice of my Lord call me again? am I pure thro his Mercy
And Pity. Am I become lovely as a Virgin in his sight who am
Indeed a Harlot drunken with the Sacrifice of Idols does he
Call her pure as he did in the days of her Infancy when She
Was cast out to the loathing of her person. The Chaldean took
Me from my Cradle. The Amalekite stole me away upon his Camels
Before I had ever beheld with love the Face of Jehovah; or known
That there was a God of Mercy: O Mercy O Divine Humanity!
O Forgiveness & Pity & Compassion! If I were Pure I should never
Have known Thee; If I were Unpolluted I should never have
Glorified thy Holiness, or rejoiced in thy great Salvation.

Mary leaned her side against Jerusalem, Jerusalem recieved
The Infant into her hands in the Visions of Jehovah. Times passed on
Jerusalem fainted over the Cross & Sepulcher She heard the voice
Wilt thou make Rome thy Patriarch Druid & the Kings of Europe his
Horsemen? Man in the Resurrection changes his Sexual Garments at will
Every Harlot was once a Virgin: every Criminal an Infant Love!"