Reposted from August 19, 2010:
A close friend of William Blake and an associate of his in publishing through the radical publisher Joseph Johnson, Henry Fuseli was instrumental in the publication of

Aphorisms on Man

. Johann Caspar Lavater, Fuseli's friend, with whom he had been a theology student in Zurich, wrote the manuscript and Fuseli translated it into English and facilitated its publication in London. Blake engraved five illustrations for the work based on preliminary drawings by Fuseli.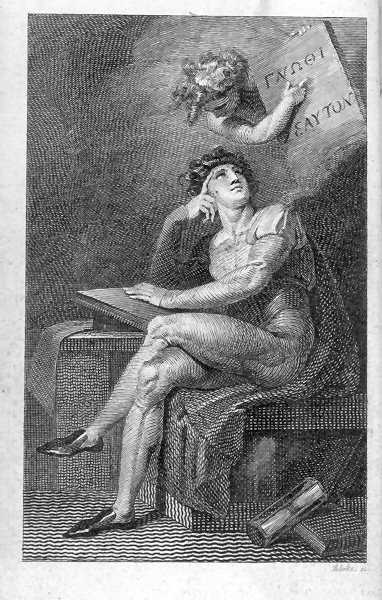 Blake's annotation to his copy of

Aphorisms on Man

are included in his complete works, and are said to be the chief reason Lavater's book is read today. The comment I focus on is an unequivocal statement of Blake's belief about the relationship of man to God which he wrote in annotating Lavater's book. That Blak
e felt that God related intimately with man as a companion and brother is made clear in this passage. Blake supports his belief by quoting John 6:56, "He that eateth my flesh, and drinketh my blood, dwelleth in me, and I in him." Blake replaces the phrase "eateth my flesh and drinketh my blood" with "dwelleth in love."

Blake continues by saying that it is this relationship with God that removes the need and ability of a man to judge another except in love.

The God Blake affirms bridges divisions because he who is the cause of all, humbles himself in order to nourish the weak. Blake then defines creation in terms of God descending to become the word which is in everything and which makes everything into God in it's essence.
Annotations to Lavater

,
(E 599)
"It is the God in
all

that is our companion & friend, for our God himself says, you are my brother my sister & my mother; & St John. Whoso dwelleth in love dwelleth in God & God in him. & such an one cannot judge of any but in love. & his feelings will be attractions or repulses
God is in the lowest effects as well as in the highest causes for he is become a worm that he may nourish the weak
For let it be rememberd that creation is. God descending according to the weakness of man for our Lord is the word of God & every thing on earth is the word of God & in its essence is God"
Blake's statement bears a close resemblance to Paul's statement in Philippians 2:6–8:
"Who, being in the form of God, thought it not robbery to be equal with God: But made himself of no reputation, and took upon him the form of a servant, and was made in the likeness of men: And being found in fashion as a man, he humbled himself, and became obedient unto death, even the death of the cross."
The Morgan Museum's exhibition of work of Blake and his associates is available online:
A New Heaven Is Begun
.