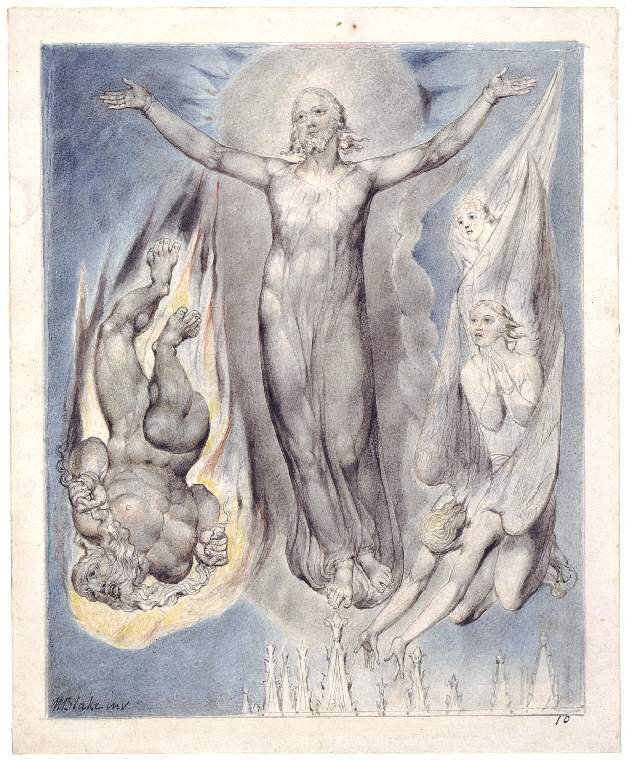 Fitzwilliam Museum
Paradise Regained
Christ placed on the pinnacle of the Temple
Luke 4
[9] And he brought him to Jerusalem, and set him on a pinnacle of the temple, and said unto him, If thou be the Son of God, cast thyself down from hence:
[10] For it is written, He shall give his angels charge over thee, to keep thee:
[11] And in their hands they shall bear thee up, lest at any time thou dash thy foot against a stone.
[12] And Jesus answering said unto him, It is said, Thou shalt not tempt the Lord thy God.
[13] And when the devil had ended all the temptation, he departed from him for a season.

The synoptic gospels in the New Testament devote a few verses to the temptation by the devil which Jesus experienced after his baptism by John. The temptation is a short interlude between the childhood of Jesus and his ministry. Having written Paradise Lost to explain how man came to be in his current predicament of alienation and difficulty, Milton used those few verses as a basis for writing a sequel to Paradise Lost. Milton used the introspective passage in the wilderness to show that man is intended to return to paradise by placing himself in the hands of a beneficent God and accepting the guidance which is provided.

In the final temptation by the devil, Jesus was placed on the pinnacle of the temple and asked to choose between falling to his death and asking God to provided Angels to prevent him from suffering injury from a fall. The devil had presented Jesus with a false dichotomy because he did not realize that God will not allow himself to be manipulated by devils or men. Jesus by maintaining his focus on God's benevolence and refusing the devil's technique of trickery, held to what he knew to be true.

The reaction of Jesus to this final temptation was the end of period of uncertainty in the development of Jesus. He realized that he was prepared to begin his ministry. He didn't need a program or agenda. It was unnecessary to predict the outcome or select the right team to execute the steps along the way. Jesus knew within himself that by standing - by being absolutely trusting in the will of God - his life would unfold as it should.

Paradise Regained, Book 4
"for

Honours

, Riches, Kingdoms, Glory
Have been before

contemn'd

, and may

agen

:
Therefore to know what more thou art then man,
Worth naming Son of God by voice from Heav'n,
Another method I must now begin.

[ 540 ]


So saying he caught him up, and without wing
Of

Hippogrif

bore through the Air sublime
Over the Wilderness and

o're

the Plain;
Till underneath them fair

Jerusalem

,
The holy City, lifted high her Towers,

[ 545 ]


And higher yet the glorious Temple

rear'd


Her pile, far off appearing like a Mount
Of Alablaster,

top't

with golden Spires:
There on the highest Pinacle he set
The Son of God, and added thus in scorn:

[ 550 ]



There stand, if thou wilt stand; to stand upright
Will ask thee skill; I to thy Fathers house
Have brought thee, and highest

plac't

, highest is best,
Now

shew

thy Progeny; if not to stand,
Cast thy self down; safely if Son of God: [ 555 ]
For it is written, He will give command
Concerning thee to his Angels, in

thir

hands
They shall up lift thee, lest at any time
Thou chance to dash thy foot against a stone.
To whom thus Jesus: also it is written, [ 560 ]
Tempt not the Lord thy God; he said and stood.
But Satan smitten with amazement fell"

Psalms 91
[1] He that dwelleth in the secret place of the most High shall abide under the shadow of the Almighty.
[2] I will say of the LORD, He is my refuge and my fortress: my God; in him will I trust.
[3] Surely he shall deliver thee from the snare of the fowler, and from the noisome pestilence.
[4] He shall cover thee with his feathers, and under his wings shalt thou trust: his truth shall be thy shield and buckler.
[5] Thou shalt not be afraid for the terror by night; nor for the arrow that flieth by day;
[6] Nor for the pestilence that walketh in darkness; nor for the destruction that wasteth at noonday.
[7] A thousand shall fall at thy side, and ten thousand at thy right hand; but it shall not come nigh thee.
[8] Only with thine eyes shalt thou behold and see the reward of the wicked.
[9] Because thou hast made the LORD, which is my refuge, even the most High, thy habitation;
[10] There shall no evil befall thee, neither shall any plague come nigh thy dwelling.
[11] For he shall give his angels charge over thee, to keep thee in all thy ways.
[12] They shall bear thee up in their hands, lest thou dash thy foot against a stone.
[13] Thou shalt tread upon the lion and adder: the young lion and the dragon shalt thou trample under feet.
[14] Because he hath set his love upon me, therefore will I deliver him: I will set him on high, because he hath known my name.
[15] He shall call upon me, and I will answer him: I will be with him in trouble; I will deliver him, and honour him.
[16] With long life will I satisfy him, and shew him my salvation.
Milton O. Percival,
William Blake's Circle of Destiny
, tells of Los and his furnaces:
"As the arbiter of the world of experience, the creator of its finite and changing forms, Los is Lord of the furnaces, which together constitute the cycle of experience through which man passes in the interim between Eternity and Eternity. These are the 'furnaces of affliction' in which man is tempered and refined, and out of which, after the purifying process, he is to be delivered, even as the Israelites were delivered out of the iron furnace of Egypt. The condition of deliverance is revealed in one of the concluding pages of
Jerusalem.
Los, peering in his furnaces, sees all the nations of the world amalgamated into one, the individual law laid aside for the law of brotherhood. The purpose of the fires has been
accomplished
. The corruptible has put on incorruption. The mortal has put on immortality." (Page 222)


Sonnet 19
John Milton
(1608-1674)





"When I consider how my light is spent
Ere half my days in this dark world and wide,
And that one talent which is death to hide
Lodg'd with me useless, though my soul more bent
To serve there with my Maker, and present
My true account, lest he returning chide;
"Doth God exact day-labour, light denied?"
I fondly ask. But Patience to prevent
That murmur, soon replies: "God doth not need
Either man's work or his own gifts; who best
Bear his mild yoke, they serve him best. His state
Is kingly. Thousands at his bidding speed
And post o'er land and ocean without rest:
They also serve who only stand and wait."
Sonnet 19 was composed sometime between June and October 1655, when Milton's blindness was essentially complete.