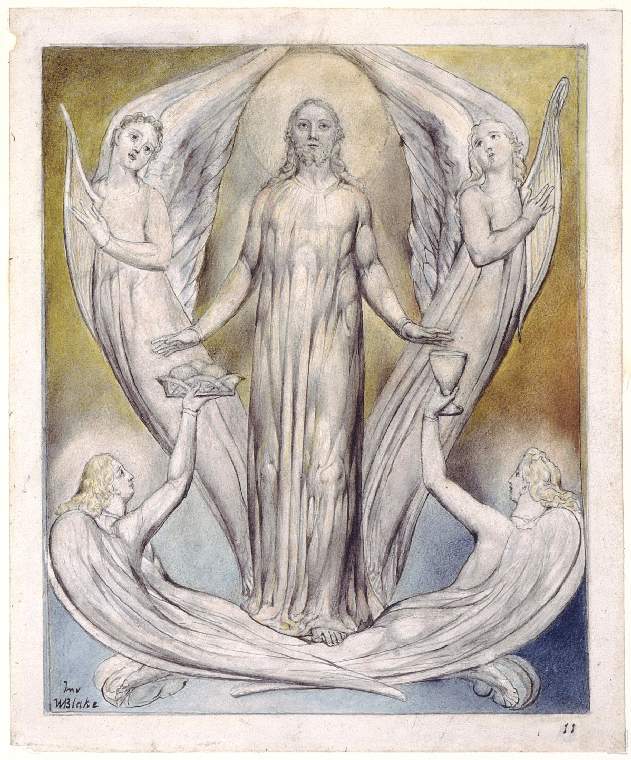 Fitzwilliam Museum
Paradise Regained
Angels ministering to Christ
Matthew 4:11
[11] Then the devil leaveth him, and, behold, angels came and ministered unto him.

" So Satan fell and

strait

a fiery Globe
Of Angels on full sail of wing flew nigh,
Who on their

plumy

Vans

receiv'd

him soft
From his

uneasie

station, and upbore
As on a floating couch through the blithe Air,

[ 585 ]


Then in a

flowry

valley set him down
On a green bank, and set before him

spred


A table of Celestial Food, Divine,
Ambrosial, Fruits

fetcht

from the tree of life,
And from the fount of life Ambrosial drink,

[ 590 ]


That soon

refresh'd

him wearied, and

repair'd


What hunger, if aught hunger had

impair'd

,
Or thirst, and as he fed, Angelic

Quires


Sung Heavenly Anthems of his victory
Over temptation and the Tempter proud.

[ 595 ]
True Image of the Father, whether

thron'd


In the bosom of bliss, and light of light
Conceiving, or remote from Heaven,

enshrin'd


In fleshly Tabernacle, and human form,


Wandring

the Wilderness, whatever place,

[ 600 ]


Habit, or state, or motion, still expressing
The Son of God, with Godlike force

indu'd


Against

th'

Attempter of thy

Fathers

Throne,
And Thief of Paradise; him long of old
Thou

didst

debel, and down from

Heav'n

cast

[ 605 ]


With all his Army, now thou hast

aveng'd


Supplanted Adam, and by vanquishing
Temptation, hast

regain'd

lost Paradise,"
In the Gospels and in Paradise Regained, Satan saw fit to tempt Jesus with food to satisfy physical hunger or to gratify the desire to exercise physical power. Having passed
through the wall of temptation symbolized by Satan, Jesus arrived at a condition to which Satan has no access. Blake pictured Jesus surrounded by four angels who supported him and offered bread and wine - the elements of the sacrament of Holy Communion. This image celebrates the fact that Jesus
Annihilated his Selfhood
by yielding his self-will to God's will.
The theme of Blake's symbolic poetry is the reestablishment of the unity which is destroyed when man loses sight of the Eternal Great Humanity Divine. In illustration 11 of Paradise Regained Blake attempted to show the nature of the unity which is established through accepting the avenue provided by Christ. When Jesus surrendered himself to following the will of God he opened the path for others to follow. Blake further believed that it is through offering and accepting forgiveness that we are capable of living the Eternal Life while yet on Earth.

Blake followed the image of Jesus answering the temptation on the pinnacle with the image of Jesus in the presence of angels. The import of Jesus' experience of setting aside his own interest and agenda by not choosing which action God should take, was equivalent to what Blake called Annihilating the Selfhood. Following the death of self-will, rebirth took place.

A similar scene of angelic presence was reported by Luke at the birth of Jesus. An angel surrounded by the Glory of the Lord appeared to the shepherds and announced the 'good tidings of great joy, which shall be to all people.' Blake's angels are re-announcing the same message after Jesus renounced any path to self-fulfillment other than following God's will wherever it would lead.

Luke 2
[7] And she brought forth her firstborn son, and wrapped him in swaddling clothes, and laid him in a manger; because there was no room for them in the inn.
[8] And there were in the same country shepherds abiding in the field, keeping watch over their flock by night.
[9] And, lo, the angel of the Lord came upon them, and the glory of the Lord shone round about them: and they were sore afraid.
[10] And the angel said unto them, Fear not: for, behold, I bring you good tidings of great joy, which shall be to all people.


[

11] For unto you is born this day in the city of David a Saviour, which is Christ the Lord.
Milton
, Plate 38 [43], (E 139)
"Such are the Laws of thy false Heavns! but Laws of Eternity
Are not such: know thou: I come to Self Annihilation
Such are the Laws of Eternity that each shall mutually     
Annihilate himself for others good, as I for thee"
Jerusalem, Plate 5, (E 147)
"Trembling I sit day and night, my friends are astonish'd at me.
Yet they forgive my wanderings, I rest not from my great task!
To open the Eternal Worlds, to open the immortal Eyes
Of Man inwards into the Worlds of Thought: into Eternity
Ever expanding in the Bosom of God. the Human Imagination        
O Saviour pour upon me thy Spirit of meekness & love:
Annihilate the Selfhood in me, be thou all my life!
Guide thou my hand which trembles exceedingly upon the rock of ages,"

Milton, Plate 16, (E 110)
"To Annihilate the Selfhood of Deceit & False Forgiveness"
Milton

, Plate 2, (E 96)
"Come into my hand    
By your mild power; descending down the Nerves of my right arm
From out the Portals of my Brain, where by your ministry
The Eternal Great Humanity Divine. planted his Paradise,
And in it caus'd the Spectres of the Dead to take sweet forms
In likeness of himself. Tell also of the False Tongue! vegetated
Beneath your land of shadows: of its sacrifices. and
Its offerings; even till Jesus, the image of the Invisible God
Became its prey; a curec, an offering, and an atonement,
For Death Eternal in the heavens of Albion, & before the Gates
Of Jerusalem his Emanation, in the heavens beneath Beulah        

Say first! what mov'd Milton, who walkd about in Eternity
One hundred years, pondring the intricate mazes of Providence
Unhappy tho in heav'n, he obey'd, he murmur'd not. he was silent
Viewing his Sixfold Emanation scatter'd thro' the deep
In torment! To go into the deep her to redeem & himself perish?  
What cause at length mov'd Milton to this unexampled deed[?] 
A Bards prophetic Song! for sitting at eternal tables,
Terrific among the Sons of Albion in chorus solemn & loud
A Bard broke forth! all sat attentive to the awful man."

Songs and Ballads, (E 476)
"My Spectre
When wilt thou return & view
My loves & them to life renew     
When wilt thou return & live
When wilt thou pity as I forgive       

Never Never I return                      
Still for Victory I burn
Living thee alone Ill have                
And when dead Ill be thy Grave

Thro the Heavn & Earth & Hell
Thou shalt never never quell
I will fly & thou pursue
Night & Morn the flight renew       

Till I turn from Female Love        
And root up the Infernal Grove    
I shall never worthy be                 
To Step into Eternity

And to end thy cruel mocks    
Annihilate thee on the rocks
And another form create
To be subservient to my Fate

Let us agree to give up Love
And root up the infernal grove                                 
Then shall we return & see
The worlds of happy Eternity

& 

Throughout all Eternity              
I forgive you you forgive me
As our dear Redeemer said                                   
This the Wine & this the Bread"



.